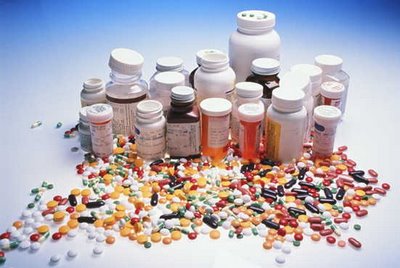 Have your parents had any problems with their medication? It was only by chance that my family discovered that the medication my seventy-eight-year-old father started taking after his by-pass surgery was causing his hallucinations.  He had been prescribed Serax™ for anxiety following surgery; but its continued use over the next two years pushed my father to a tipping point at which this once charming and quick-witted man imagined conversations and experienced wild dreams.  Fortunately for us, one of my mother's doctors, a physician with training in psychopharmacology, identified the problem and switched my father to a milder drug.  His good humor returned.
Each year, Americans of all ages consume about $200 billion worth of prescription drugs, with seniors accounting for approximately one-third of those medications.  Because older people are more likely to experience multiple ailments, they are more likely to be prescribed multiple prescriptions; it is critical for them and their families to recognize the potentially harmful side-effects of each medication prescribed.
Dovetail Health, a Massachusetts-based health care service, seeks to prevent cases like my father's by offering pharmaceutical advice to seniors in the transition from hospital or nursing facility back home.  With their team of licensed pharmacists, nurse health coaches, and care coordinators, Dovetail provides a 30-day program to reduce preventable readmission through a comprehensive medication assessment.  Their typical client takes five or more medications and has a mixture of chronic illnesses such as hypertension, diabetes or congestive heart failure. While their long-term goal is to stabilize the senior so they can live as independently as possible in their own home, this service has the additional benefit of reducing hospital readmission rate within 30 days of discharge from the typical 20-23% to 11%. Services like those that Dovetail offers aren't yet available everywhere, but you can help your parents by simply preparing a list of their medications, recording the dosage and time of day taken.  Include vitamins and any over-the-counter medicines, such as laxatives, that they take daily too.  Have them bring this list to their local pharmacist, and then to their doctor, for advice.  It's often enough for a physician to simply see the full list of medications to recognize opportunities to reduce the number of prescriptions or to lower the dosage of particular medications. Dizziness, an upset stomach, anxiety and even forgetfulness can be caused by taking the wrong medication, in the wrong dosing at the wrong time of day.  Working with your parents to help them understand how to take their medications correctly can help prevent the kind of side effects that might limit their independence.
©Circle of Life Partners™