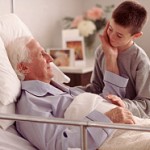 by Jan Simpson
I felt uncomfortable the first time I sat in on my parents' medical appointment with their family physician instead of waiting in the reception area. The doctor greeted my parents warmly and shook my hand before he sat behind his desk. My father joked, "We brought our mother with us today."
For decades, my parents' primary care physician had managed their care, coordinating testing, surgeries, and specialists as their ailments became more severe. Our family had confidence in his medical knowledge and my parents shared that confidence. Yet when my parents were 78 and 77, our family assumed a greater role in their care. When my father was too ill to drive my mother to her medical appointments, a sibling or I did so, sitting next to her and taking notes so she could follow her physician's guidance at home. After a prescribed drug caused my father to hallucinate, I attended his next appointment to advocate for a change in the medication. My siblings and I visited during hospital stays and used those visits to seek advice from physicians, nurses, social workers, and other health care providers at every encounter. We learned about the progression of our parents' ailments and we tried to anticipate their needs. Above all, we tried to maintain their strength and vitality through good nutrition, mobility, and the simple joy of being surrounded by loving grandchildren.
Dr. Madeleine Biondolillo recently wrote an oped article in the Boston Globe, "A Deadly Information Gap." She describes the chilling experience of her 84-year-old mother's recent brush with death caused by a lack of communication among physicians, noting that "hospital doctors often don't communicate with office doctors, leaving the patient to fend for herself, just when most vulnerable." She continues "my mother survived her near fatal illness because she had knowledgeable, relentless insiders to advocate and communicate for her."
And that was a surprise?
Hospitals can be minefields for elders, yet you don't have to be a physician to get competent care for your older loved one. The challenge isn't the hospital care they receive, it's of being left alone to navigate the system. Would you leave your young child alone in the hospital to communicate with the physicians? Would you expect him or her to track medications, understand the diagnoses, remember the details of the last visit with the pediatrician? Why would you expect an ill elderly parent to coordinate care with specialists and their primary care physician? And why would you expect health care as delivered today to be coordinated?
Not long ago I participated in a focus group organized by the Campaign for Better Care, an effort led by the National Partnership for Women & Families. Calling themselves 'lobbyists for the patients,' they are pressing for legislation to improve the way health care is delivered. I applaud their effort, yet my father had it right. All elders need a "mother," a tireless advocate who will pay attention to their care.
Does your parent or older loved one have a health care advocate? If that advocate is you, have you experienced what Dr. Biondolillo described?
©2011 Circle of Life Partners™