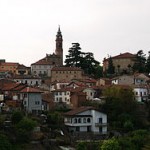 by Janet Simpson Benvenuti
Have you visited a town or village from where your grandparents or great-grandparents emigrated? Our last stop in Italy was Castell'Alfero, a medieval village in the Piedmont area of northern Italy, population 2736, where my children's 86-year old grandmother, their Nona, was raised during the second World War. After visiting Rome and Florence, and cruising the s-turns on the Italian Rivera at Portofino, our expectations for this part of our family vacation were modest. We simply hoped to find the farm on which she had lived and gain some insight into her life as a teenager.
Previously, on Mother's Day, we had introduced Nona to Google Earth and virtually roamed the streets of the village and a neighboring town, kindling memories so long suppressed that she slept fitfully that evening, her young life in Italy so unlike that of her American husband, who was a member of the OSS stationed for two years in Mussolini's headquarters in Rome. Only recently has she shared with her grandchildren even a few stories from that time. Most memories of the War, she says, are best forgotten.
We wound our way to the top of the walled village, the town seeming untouched since the day she left for the States 70 years ago. On the village War memorials, we read the names of men whose surnames matched her maiden name, and we wandered through the village cemetery, discovering family names chiseled in marble on mausoleums meticulously tended. Nona had told us about family members who might still live in the area, including a cousin named Renata who, as a child, had corresponded faithfully with her. Trusting our daughter's one-year of Italian classes, we stopped at the village town hall where three delightful women chatted amicably among themselves, trying to decipher our Italian phrases. "Renata?" one woman exclaimed, of course, they knew her, and later that evening, we dined with Renata and her husband on the piazza overlooking a majestic view of the verdant valley dotted with villages and churches, family farms and vineyards.
There were long pauses in conversation as our daughter and her Google app translated unfamiliar words such as 'glider' and 'airstrip'; her father, a recreational pilot, challenged her language skills with stories about his flying experiences. Midway through the meal, we called Nona, still living independently in New York City. As I watched the expression on Renata's face soften, listening to Nona's voice in Italian, the smiles on my children's faces widened, and the past, present and future converged in a moment that could only be described as magical.
A grandparent gives so much to a grandchild: laughter, perspective, and comfort, a favorite recipe, a vivid childhood experience, a sense of belonging. Each of my children's grandparents have influenced them in ways beyond their understanding, creating memories and stories that are embedded in our family lore. In those few moments atop a small village in a rural corner of Italy, I felt grateful to have Nona still with us, still able to share her life's journey with our children. It is a gift they will never forget.
© 2013 Circle of Life Partners, LLC. All rights reserved.