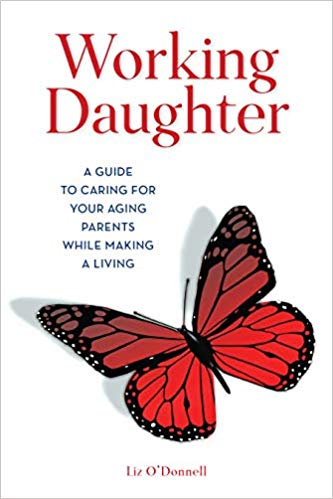 by Janet Simpson Benvenuti
Recently I met for lunch with Liz O'Donnell to discuss her latest book entitled Working Daughter, A Guide to Caring for Your Aging Parents While Making a Living. Liz is a marketing executive who suddenly found herself caring for two parents who were diagnosed with terminal illnesses on the same day. Juggling the demands of a full time job and two young children, Liz turned her experience into a poignant story full of humor, encouragement and practical guidance. Intent to help the readers overcome "insomnia-induced, middle-of-the-night Google searches," Liz weaves her personal story with clear advice that will help working daughters and sons navigate the practical challenges of supporting aging parents while acknowledging the emotional, and potentially negative, impact on relationships, health, and careers. Among the pages you'll discover,
1. How to identify the warning signs that there is a problem;
2. Fifty things family caregivers can do to practice self care;
3. Strategies for setting boundaries & communicating with parents, siblings & spouses;
4. Senior living options and how to transition parents to a new home;
5. The Working Daughter Bill of Rights.
To better support women balancing eldercare and career, Liz founded WorkingDaughter.com and oversees a private Facebook group of women and men supporting their aging parents. Order the book and if you, or anyone you know, is juggling work and parents, invite them to join the Facebook group; it's like being online with 2,500 non-judgmental sisters. You'll laugh, cry, vent, and get advice on topics ranging from the best underwear for incontinence to how to find decent home care or assisted living communities. You may also enjoy the Working Daughter podcasts.
Author Virginia Morris sums up Working Daughter best. "Women might be able to shoulder both work and motherhood, but throw an elderly parent's care into the mix, and these mighty women can collapse into a heap of wine, cheese dip, and tissues. Liz gives them guidance on how to accept their fates, manage the mess, and find some joy in the moment."
Enjoy. And thanks, Liz, for enabling us all to learn from your experience.